Industrial model for Matcon
Our brief for this model was to make a scale replica of an example pharmaceutical handling factory floor using some of Matcon's equipment, 1200mm x 600mm in two halves representing the two areas of the factory. The model needed to be shipped around the world for different trade shows so it needed to be robust without losing too much detail in the factory equipment. We were given 3d CAD data and photo's of a previous model to base the overall design on and give us an idea of the detail that they would like to show. The model was required to be made with clear acrylic walls and floors so all the factory was visible from all angles.
We began by laying out the floorplan and finding the scale. Each individual element was then assessed at scale and alterations planned to increase the strength, bearing in mind motion from transport.
Some of the elements were multiples and to make the process more time efficient we used a 3D printed master. We then took a mould and cast these multiples in carbon fibre reinforced resin. Meanwhile the other elements were constructed by hand using fiddly table saw and milling work, laser cut elements and other cast pieces. Here is a selection of some of the pre painted parts, they range from 4cm high to 15cm high.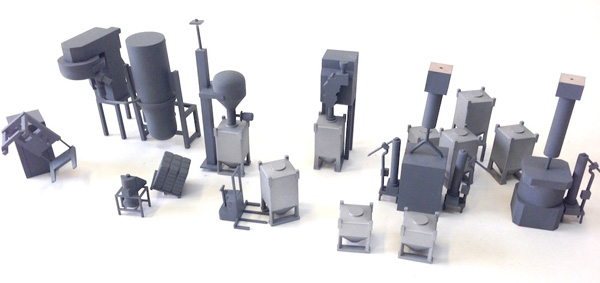 After the parts were painted to a specific RAL code they were ready to be put into the building framework. We laser cut the framework from 5mm clear acrylic that had been designed to interlock in the most structurally efficient manner. The acrylic was glued using clear acrylic adhesive.
The factory elements were pinned to the floors, or where ever possible with out interfering with the integrity of the model, with dowels or pre designed structures so all elements had both adhesive and a mechanical joint.
The final model was in two halves so you can walk between them at trade shows and the complete models are shown in the pictures below. They were delivered in a large, custom made foam lined flight case.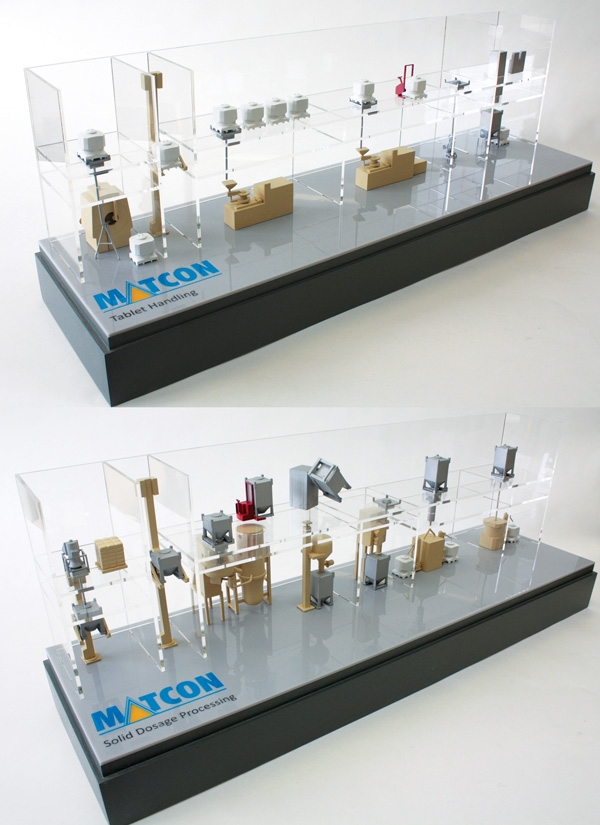 SEE LARGER IMAGES IN OUR GALLERY!