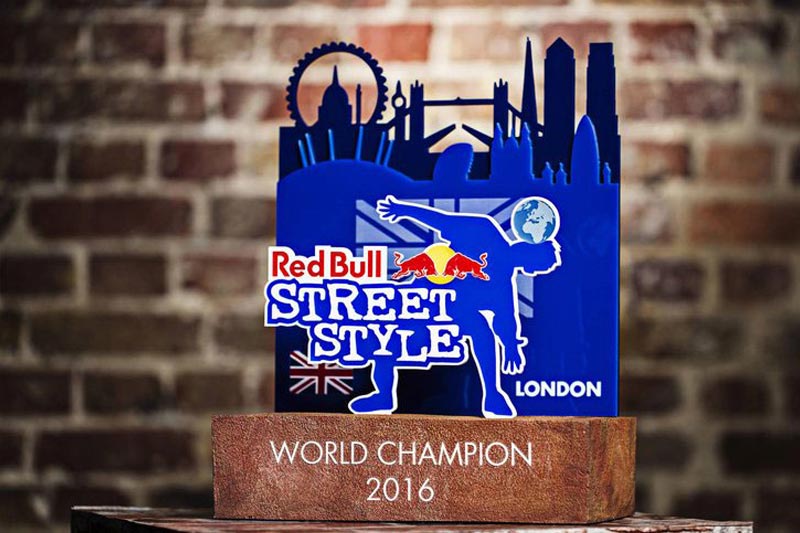 As experienced model makers and prop makers we also employ the same techniques to produce bespoke trophies and corporate awards. Whether you need an abstract art form or scale replicas of your products and equipment, we can produce your custom trophies. We produce one-off trophies and awards or incorporate moulding and casting techniques to produce multiples.
There is a range of materials available for your trophies and awards. Acrylics can be laser cut to intricate designs and engraved. Wood can be integrated for a more natural element. We use cold casting techniques to produce stone and metallic look and feel.
With our expertise and experience with a range of materials and techniques we can create a truly bespoke award for any occasion.
Examples of trophy options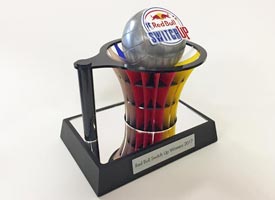 Bespoke trophies
You have come to the right place if you are looking for a truly unique bespoke trophy for your business. There are a range of materials and techniques we can use to create you something special. We use mould making and casting, laser engraving and also large scale CNC cutting.
We understand budget is an important factor and we work with your budget to offer design options.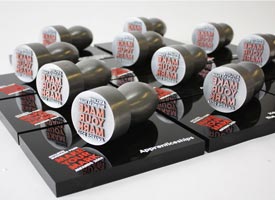 Replica trophies
Replica trophies generally will reduce unit price. Depending on your design we offer mould and casting from a master design made by one of our creative team. Resin casts are cured with dyes or material effects like metal or stone, alternatively are painted.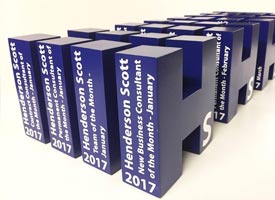 Finishing options
Some finishing options include paint, plinth making, and also graphics.
We can closely match brand colours with paint finishes. Awards are mounted on a variety of different material bases including timber, polished acrylic or stone plinths. Text and logos are added using laser engraving or full colour vinyl graphics.
Frequently asked questions
We can work from a simple sketch, photos of what you would like to base the trophy on, or CAD data.
Don't worry if you're unsure about what information you have, get in touch to discuss your needs, we offer free advice.
There are no set prices as every job is different and a wide range of materials can be used which will affect the price. To get an accurate quote we would need to see your proposed idea and determine the best processes and materials to create your trophy.
We offer discounts for multiple replicas as casting is a popular process for awards.  Using this method the bulk of the work (and cost) goes into producing a master and a mould.  Castings are relatively cheap in comparison and multiple castings can be taken from a single mould which offsets the original cost of the master across the multiple castings.
Simply send us an email with your ideas and some details about you project such as:
What style trophy you would like to use.
Quantities required for your job.
Any examples of trophies you have seen that you like the style of or a mood board for your idea etc
Don't worry if you don't have all this information, give us a call to discuss your needs, we offer free advice.
Some happy customers