Laser cut keyring gifts
Bespoke gifts can get expensive but getting creative with laser cutting can produce some pretty awesome affordable gifts. We love creating keyrings, we can take your logo or design and turn it into a laserable kit for cutting. We glue acrylic together with a specialist plastic adhesive that leaves minimal to no residue so we can create your design from suprisingly small intricate pieces.
The acrylic can also be engraved so you can add a personalised message to the keyrings. Also extra detail can be etched on to the coloured acrylic. Just like in this selection of keyrings…
On the left is our brand rocket made for Vin + Omi's goody bag at their London fasion show that we collaborated on. The 'Freddie Fries again' keyring was part of a large order for corporate gifts given at the end of season filming to cast and crew. We created the laserable van design from an image of the real van. The 'Sega' keyring was a one off, as part of an event.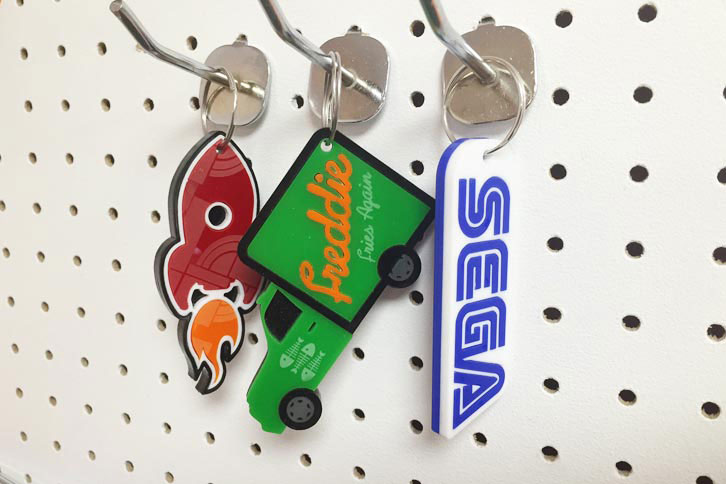 We have made one off's and also bulk orders of keyrings, the larger the order the lower the unit price. These Freddie Fries Again keyrings were engraved on the back. Adding a black background gives support to the design and is the clearest material to engrave on, but the designs do not always need it.
Do get in touch to see how we could turn your logo or design into an affordable corporate or personal gift using laser cutting.