Tower Bridge competition
To celebrate it's 120 years, Tower Bridge launched 'Design a Bridge' kids competition for 6-14 year olds. Their prize was to have their design made into a 3d model for display in the Tower Bridge exhibition. Last week Toby Ayres (age 8) won with his funky design and eye for detail for capturing the spirit of the British competition.
We were presented with his design and asked to create the model for display. Our design brief was to follow the design as accurately as possible, bringing it to life in 3 dimensions.
The model was made from timber and acrylic with heat blasted, foam fish and chips and super sculpey peas. It's not often you get asked to create a fake bowl of fish and chips but every job is different-and some more than others! We applied techniques from other making processes and hand painting from the super creative Lizzie, and think the result looked great.
Here is Toby's design complete with pea, chip, and knife and fork detailing!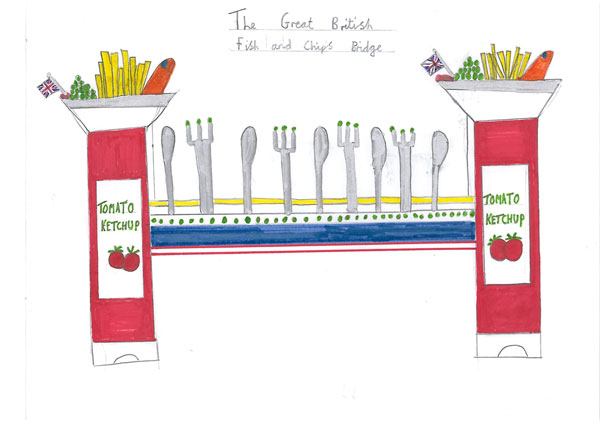 Even for a model maker this presented challenges, we had to interpret as best we could the ideas behind the design. But without our usual architectural technical drawings there was more flexibility and room for creativity, so a very different set of challenges and lots of fun!
Toby was announced the winner and the model is now in the exhibition, we have heard he is chuffed with his win and also the model.