Bespoke laser cut Christmas cards
This Christmas we had quite a few seasonal jobs, for N20 Brand Activation Agency we cut 400 bespoke Christmas cards. The card was first engraved with text and then the clever design cut from the card. We have produced a video to show you the laser cutter at work and the final card, as designed by N20.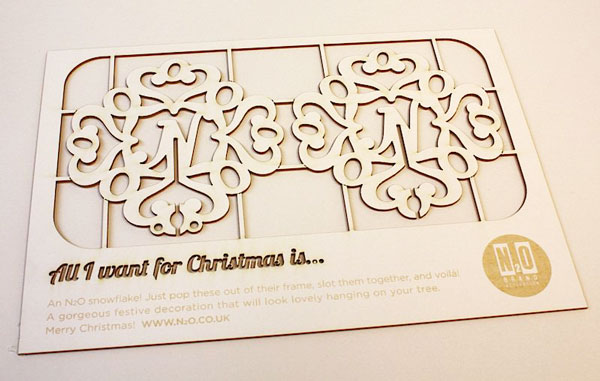 If you are interested in using laser cutting to produce some bespoke cards please do send over your designs for us to quote from. The laser works from .ai files, more details on making your file laser compatable can be found on our laser cutting page, but we can also help with this.
Charging on the laser is worked out on time taken to cut, therefore thicker material, the more cut lines and more engraved areas there are the more expensive it will get. But with some cleaver design you can produce some very affordable and eye catching work. So get creative and we look forward to hearing from you!